What were Fiat designers thinking?
Fiat produced this monstrosity from 1998 to 2003 and, thank god, introduced a facelifted version in 2004. It was never sold in North America. It seems that the designers combined two vehicles to create one, like they chopped the top off a good car and glued on a green house from a much shorter van.
The lights at the bottom of the A-pillars are the high beams. They can be serviced via a hole in the wiper cowl, where you remove an allen bolt and pull out the entire assembly.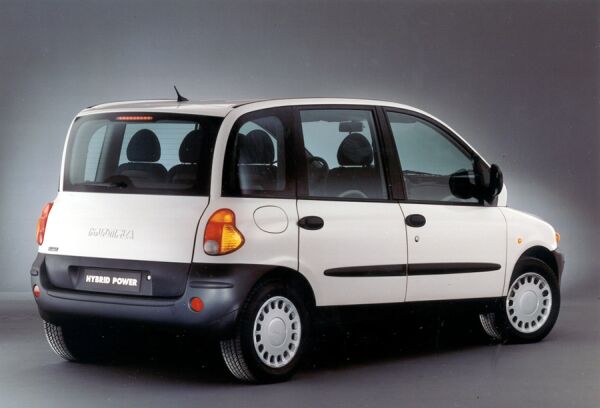 View from the rear is just as bad. The glued on greenhouse look is still present with the odd crease where the window meets sheetmetal. The Multipla was voted "Ugliest car" in the 1999 Top Gear awards.
Fiat used the Multipla name for a microbus version of its 600 city car produced from 1956 to 1965. It looked much cooler, dare I say.
As awkward as it looks, the Multipla isn't a bad people hauler. Room for 6 and still enough space for your luggage, good fuel mileage from its gasoline or diesel engine and removable rear seats. Fiat even offered (and still does) methane injected, methane/petrol injected and LPG (liquid petroleum gas) injected engines.
DERP!!!
For more info, check out:
http://www.italiaspeed.com/newmodels_multipla_2002.html